Did you know that you can enrol on an apprenticeship as an existing employee under your current employer?
We spoke to our Marketing Executive Megan to find out why she chose to do an apprenticeship, as an existing employee at IFOL. She already has a degree in Management and Marketing, with a few years' on-the-job experience, but wants to expand her knowledge and skills in the specialised area of digital marketing.
Meg is a prime example of someone who understands that having experience in her field of work doesn't mean that she can't progress further, and stay relevant, by gaining more qualifications.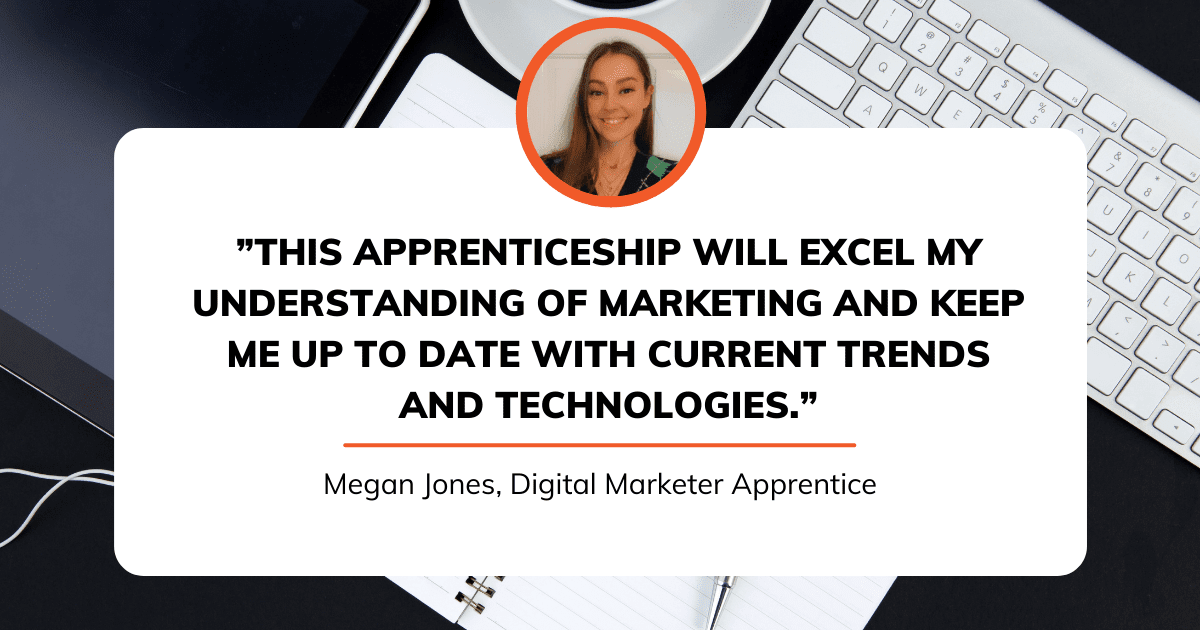 What does your job role involve?
There is a lot of variety and demand in my role which is great for me as I love to keep busy! I deal with creating, organising, and scheduling the social media content, managing all aspects of email marketing, and writing a range of blogs and informative articles.
Why did you choose an apprenticeship?
I was made redundant due to the COVID-19 crisis, so I started a few online courses to keep me updated with marketing. When IFOL employed me, they allowed me to continue learning by enrolling in a marketing apprenticeship that was also going to benefit the company. Opportunities for learning and development are an important part of my career so whenever something is presented to me, I will take it!
How will this apprenticeship work alongside your job role?
I do have to commit to 20% off-the-job training for learning and development for my professional qualification. This doesn't involve attending a school, it means I take time away from my day-to-day job role to do tasks related to the qualification. This is great because I can study and learn towards my qualification while also benefit IFOL with the work that I am doing.
Did you have any concerns?
Due to the stigma around apprenticeships being low paid, I was worried that my salary would have to be lowered but that really wasn't the case! My current contract of employment stays in place so my salary stays unaffected. Enrolling in an apprenticeship as an existing employee will only improve my chances of promotion and a higher salary.
Is your apprenticeship going to be affected by COVID?
My apprenticeship has hardly been affected in terms of the learning and development involved because of it being an office-based role. My training and progress reviews will still be carried out, but this will all be done virtually with reviews being more frequent to ensure that I am progressing as I should.
How will this apprenticeship help you in your future career?
Completing an apprenticeship is going to advance my understanding of marketing and specialise my knowledge and skills within digital marketing. Alongside my degree and experience, I will have a professional qualification that will put me in a position ahead of the competition and excel in my career.
What would you say to someone considering an apprenticeship?
They are definitely beneficial to anyone wanting to professionally develop further in their current field of work. I would say that it is more important than ever to advance knowledge and skills in a career, especially with how COVID-19 has changed the job market. This apprenticeship will excel my understanding of marketing and keep me up to date with current trends and technologies.
Want to check out the apprenticeships the Institute of Financial Operations and Leadership offers? Learn more