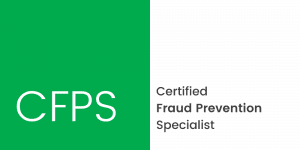 The Fraud Prevention Specialist (CFPS) programme is designed to help Financial Operations professional identify fraud risks within the supplier or vendor masterfile and apply new techniques to reduce that risk.
The course provides a Framework using a 3 Step Vendor Setup & Maintenance Process to implement Authentication Techniques, Internal Controls, and Best Practices to Protect the Vendor Master File from Fraud.
The certification is ideal for those who work within Financial Operations and need to be aware of fraud threats and how to reduce the associated risk.
The course is structured in an accessible and user-friendly way that underlines key information and provides useful summaries. It examines and breaks down specific standards topic-by-topic. There are case studies, which are based on real-life examples, and many exercises, multiple-choice questions and sample answers for trainees to test their knowledge as they progress through the course.
The course and exam is usually completed within 3 months as the pace is set by the learner. Management reports can be provided on a monthly basis to your organisation to measure learner progress.
.Overall the course content covers over 20 topics, with key focusses on the following areas:
Authentication techniques

Internal Controls to Reduce Risk

13 Best Practices for Vendor Maintenance

8 Step Process For Vendor Cleanup

5 Step Process for Merger and Aquisition in the masterfile