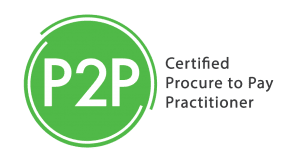 The Certified Procure To Pay Practitioner programme (CP2P) is a unique and highly respected programme which provides the most advanced level of certification for Procure to Pay professionals.
The certification is ideal for those who already have experience in Finance or Procurement or have already completed the CAPP certification programme and would like to extend their knowledge and skills.
The course is structured in an accessible and user-friendly way that underlines key information and provides useful summaries. It examines and breaks down specific standards topic-by-topic. There are case studies, which are based on real-life examples, and many exercises, multiple-choice questions and sample answers for trainees to test their knowledge as they progress through the course.
The course and exam is usually completed within 12 months as the pace is set by the learner. Management reports can be provided on a monthly basis to your organisation to measure learner progress.
All students also gain access to monthly trainer led masterclasses which provide opportunities to learn from other professionals and get support where needed.
Overall the course content covers over 80 topics, with key focusses on the following areas:
Understanding The Procure to Pay Cycle

Process Mapping and Improvement

How to Align AP and Purchasing

Structuring a P2P Environment and Proposing Change

Procurement Processes and Best Practices

Using The Correct Payment Solutions and Processes

Cash Management and Supplier Management techniques

Compliance, Taxation and Reporting Obligations

Fraud and Risk Reduction Techniques

Application of Automation and Optimisation of P2P