We are proud to announce Nadine Samuel as our Student of the Month for February 2021. We are recognising Nadine for the practical application of the theory she has learnt. The Procure to Pay Practitioner Certification programme asks students to write 'the pros and cons of implementing a Procure to Pay strategy'. This article showcases a part of Nadine's work.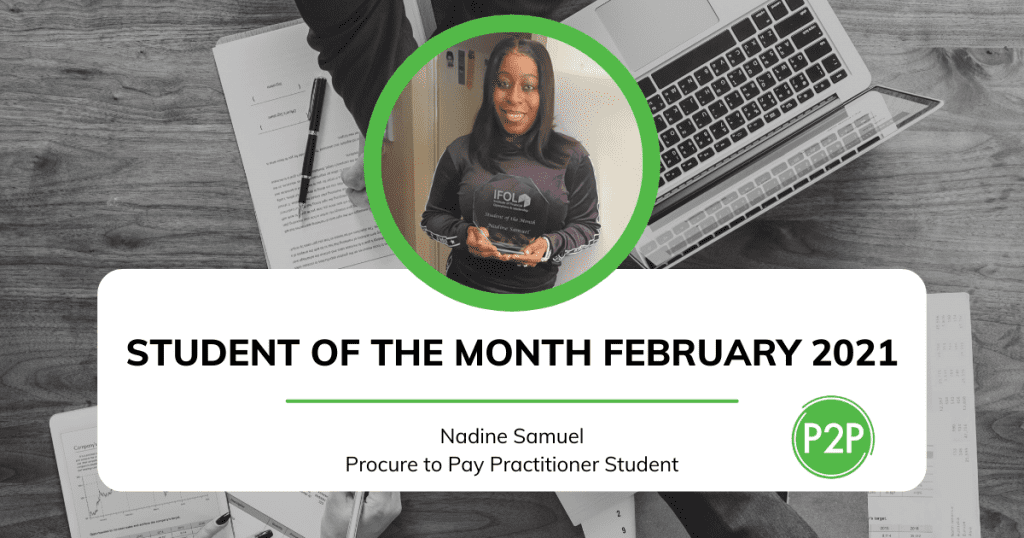 "Combining Accounts Payable and Procurement brings both departments under the same reporting chain. This aids easier collaboration giving both teams a sense of belonging and creating a more effective work environment. It also means that there is an increase in process efficiencies and streamlining the supply chain and cash flow. This also results in improved supplier relationship management and communication.
Merging the departments improves the connection between Accounts Payable and Procurement departments and their relationship with suppliers and vendors. A Procure to Pay strategy gives procurement real-time accounts payable data. This data can be used to improve overall operations and negotiate savings with suppliers and vendors. It also gives employees the necessary tools to nurture positive relationships with suppliers and vendors.
Ultimately, employees will work more closely together ensuring efficiency, better accuracy and improved cost control. Merging also mitigates any unnecessary surprises which necessitate time-consuming investigations and extra processing.
Implementing a Procure to Pay strategy can be valuable to the success of an organisation. Not doing so can lead to exposing the supply chain, destroying supplier relationships and harming supply continuity and quality. Keeping these departments separate can also result in broken supply chains and transferred power to the supplier.
The combining of departments will provide a seamless end-to-end Procure to Pay process. It provides a good user experience and improves internal and external customers perception of the organisation. Increased production, improved reputation, and increased profits will develop better long-term business relationships that are key to organisational success. Merging departments most importantly results in more effective communication with suppliers and helps to improve the bottom line.
Finally, implementing a Procure to Pay strategy will put the organisation in a strong position. It benefits policy standardisation, improves control, and increases service and production levels."
Want to know how you can join the CP2P Programme?

Find out more here.